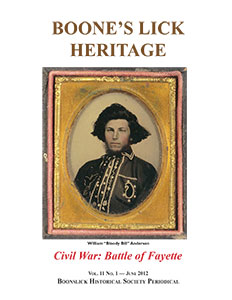 Boone's Lick Heritage is published four times a year by the Boonslick Historical Society.
We encourage our members and others interested in history to contribute articles or other information of historical interest pertaining to the region. Please address all contributions and correspondence related to the periodical to the editor, Don B. Cullimore, or email to: contact@boonslickhistoricalsociety.org.
Publication deadline are February 1 for the March issue; May 1 for the June issue; August 1 for the September issue; and November 1 for the December issue.
Boone's Lick Heritage, Vol. 22, No. 2
Boone's Lick Heritage, Vol. 22, No. 1
Boone's Lick Heritage, Vol. 21, No. 2
Boone's Lick Heritage, Vol. 21, No. 1
Boone's Lick Heritage, Vol. 20, No. 4
Boone's Lick Heritage, Vol. 20, No. 3
Boone's Lick Heritage, Vol. 20, No. 2
Boone's Lick Heritage, Vol. 20, No. 1
Boone's Lick Heritage, Vol. 19, No. 3
Boone's Lick Heritage, Vol. 19, No. 2
Boone's Lick Heritage, Vol. 19, No. 1
Boone's Lick Heritage, Vol. 18, No. 4
Boone's Lick Heritage, Vol. 18, No. 3
Boone's Lick Heritage, Vol. 18, No. 2
Boone's Lick Heritage, Vol. 18, No. 1
Boone's Lick Heritage, Vol. 17, No. 4
Boone's Lick Heritage, Vol. 17, No. 3
Boone's Lick Heritage, Vol 17, No. 2
Boone's Lick Heritage, Vol. 17, No. 1
Boone's Lick Heritage, Vol. 16, No. 4
Boone's Lick Heritage, Vol. 16, No. 3
Boone's Lick Heritage, Vol. 16, No. 2
Boone's Lick Heritage, Vol. 16, No.1
Boone's Lick Heritage, Vol. 15, No.4
Boone's Lick Heritage, Vol. 15, No. 3
Boone's Lick Heritage, Vol. 15, No. 2
Boone's Lick Heritage, Vol. 15, No. 1
Boone's Lick Heritage, Vol. 14, No. 4
Boone's Lick Heritage, Vol. 14, No. 3
Boone's Lick Heritage, Vol. 14, No. 2
Boone's Lick Heritage, Vol. 14, No. 1
Boone's Lick Heritage, Vol. 13, No. 3-4
Boone's Lick Heritage, Vol. 13, No. 2
Boone's Lick Heritage, Vol. 13, No. 1
Boone's Lick Heritage, Vol. 12, No. 4
Boone's Lick Heritage, Vol. 12, No 3
Boone's Lick Heritage, Vol. 12, No. 2
Boone's Lick Heritage, Vol. 12, No. 1
Boone's Lick Heritage, Vol. 11, No. 3
Boone's Lick Heritage, Vol. 11, No. 2